Q Entertainment
House Resident DJ Ivan Minuti
Born in Milan (Italy) Ivan Minuti's teen years coincided with what is perhaps the most fertile era in electronic music: not only did the era see the rise of bands such as the Chemical Brothers, Underworld and Massive Attack but it also saw the first true superstar Djs such Laurent Garnier and Richie Hawtin.
It was in 96' when, after having taken the first steps in Djing, Ivan realized that the world around him had just begun the transition from an analog to digital dimension; this was the start of the internet for everyone and consequently the explosion of file sharing and wild downloads.
Anticipating what would have become common practice in the following decade, he began building his own database of samples and records favouring electronic grooves with artists such as Four Tet, Apparat and James Lavelle each inspiring him.
"They were musicians expressing themselves as a Dj, communicating different moods through their music productions" Ivan says. Over time his dj set has become a sophisticated and eclectic experience, with a multitude of mid-tempo sounds, from balearic, cosmic and nu-disco evolving to classy up-tempo deep, techno and tech-house.
Nowadays his music touch is inspired by artists like Solomun and Dixon, who are both examples of a passionate, dynamic personality with a concrete love for the art of djing.
Based in the U.A.E, where he is now the resident DJ at Qbara Dubai, Ivan is ready to release his debut album (along with the producer Andrew Sands) under the name "Assault And Battery"; a work that looks back at the path that led him to be one of the most promising talents in the Emirates club scene.
Soundcloud: https://soundcloud.com/ivan_minuti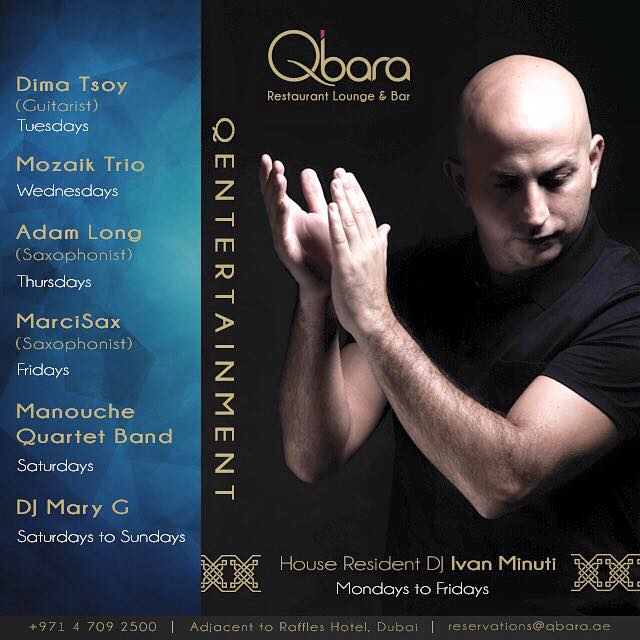 DJ Mary G
Originally from Riga, Latvia, her career in the nightlife scene began behind the bar at one of the capital's pre-party venues. In 2010, while travelling around Europe and Asia, Mary G discovered her passion for music and managed to truly express her passion by becoming a DJ after moving to Dubai in 2011.Mary G's music identity is playing Deep, Vocal, Funky and Soulful tunes.
Her first gig behind the decks was at Alegra Lounge, Al Murooj Rotana Resort, was such a success that she was soon offered a residency at Bliss Lounge.
Her followers will be happy to hear she is now performing at Qbara every Saturday and Sunday, adding her funky sounds to the venue. Stay tuned!
Soundcloud: https://soundcloud.com/djmaryg